Year 9 Football Heroes!
Back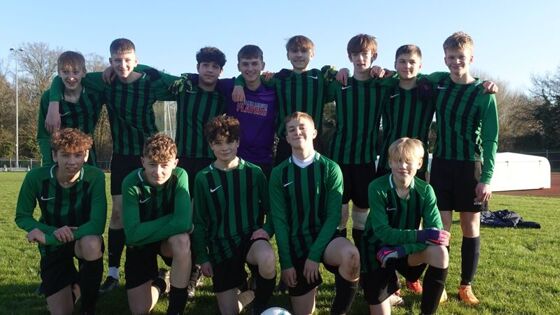 The Year 9 boys football team have been on an incredible cup run in the ESFA School's National Cup. They are very talented squad who perform so well as a team. They have come up against some excellent opponents throughout the cup run and have overcome many difficult challenges including an amazing 4 penalty shootout wins.
As they progressed through the rounds, the crowds of parents, teachers and students was growing and growing creating an exciting and motivational atmosphere for the boys to perform to their best. In Round 6, they played against Bishop Ullerthorne School from Cov­entry, with Harley Irish scoring a dramatic last minute equaliser to take the game to extra time and eventually penalties. It was here that we witnessed possibly the craziest penalty shootout, full of highs and lows as penalties were scored and missed. Our op­ponents had 5 opportunities to win the penalty shootout, however Zac Watkins was an absolute superstar in goal, saving penalty after penalty to keep our hopes alive.
Eventually after the 13th penalty, Nunnery won and progressed to the next round with the sound of Sweet Caroline booming from the changing rooms in celebration. Nunnery Wood were now into the last 16 of the competition which is an unbelievable achieve­ment considering 670 schools entered it. Unfortunately, this as far as we were able to progress this year as the boys lost 2-1 in extra time to Wigston Academy from Leicestershire. This was another close match but one that we feel we could or should have one with Nunnery Wood creating many good chances and hitting the bar twice. However, it was not meant to be, and although everyone involved was extremely gutted that the cup run ended there, they should all be reminded about their incredible efforts and achievements to have progressed this far and that everyone linked to the school is so proud of what they have achieved.
We are already looking forward to next years' competition!
Year 9 Football Team:
Zac Watkins, Cody Boulton, Jaiden Gwynne, Henry Hilditch, Harry Knight, Louis Hudson, Harley Irish, Szyman Mrozek, Alex Vickers, Fin Goodman, Ashden Jones, Wiktor Zagrod­nik, Hilmi Tekagac, Mikey Hadden and Ashton Doyle.