Students Tackle MP on Environment
Back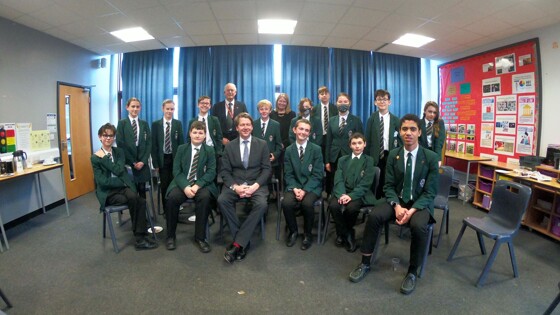 MP for Worcester Robin Walker visited NWHS following the Worcester Show Garden Com­petition. Students created the eco garden and then had to complete an essay and a scrap book which was then displayed in Worcester Museum and Gallery.
Nunnery were runners up and went to Pershore College for the day as a prize where students learned more about sustainability and the environment. Chris Thorpe form the Worcester Show Committee asked us to host the display for Robin Walker to come and visit and meet some of the students involved. Robin Walker is always keen to support local schools, especially with environmental and extracur­ricular activities. Robin toured the school and then looked at the display. He then spent an hour with students conducting a Q & A session. There were many environmental questions such as developing wind turbines, how we increase the safety of cyclists, the use of electric cars, students made suggestions of all schools having environmental studies as part of the curriculum and having their own garden and outdoor areas.
Ms Beard, who leads the Eco Club and organ­ised the competition and the event, said "It was a fantastic opportunity for the students to speak directly with Mr Walker about their thoughts and questions on the environment. He was very impressed with the passion shown by students towards the environment and was keen to learn how government could drive these ideas forwards it was a very positive experience for students, who felt that they had their voices heard. They got to directly hear from their MP about such an important issue and understand that they are being listened to.
"I had the chance to ask Robin Walker some questions, firstly the Department of the Environmental Protec­tion moving from London to Worcester on 1st March 2021. We wanted to know why this has not happened yet and were told that a space has been proposed and they are now looking into what the next steps are. Other students asked questions on electric cars, renewable energy, more eco lessons in schools. I was not expect­ing the meeting to happen any time soon and it was very good to hear from someone who has actually been in contact with the Prime Minister and the government. I also asked him his opinion on the current situation in Downing Street regarding the Downing Street parties. He said he thought that Johnson had attended work meetings but some pictures suggest otherwise and we should wait for the results of the enquiry and investigation and that the media can show a certain perspective." Abdel Mostafa, Year 10
"My sincere Thanks to you for hosting Robin Walker MP, Secretary of State for Schools Standards, on his visit to your school to see all the Schools entries to last year's Worcester Show Schools Competition. I gained a very clear impression that he was very favourably impressed with all the entries them­selves, and thoroughly enjoyed his tour of the school seeing a number of classes in full flow. He thoroughly enjoyed meeting so many of the students with their interesting and penetrat­ing questions. They certainly gave him a good grilling – I suspect he felt like he'd just done a session in the Houses of Parliament! You have a fine school, and many pupils to be proud of, judging by those I met, who were very lively coming up with a set of most intelligent questions for your visitor. Finally I look forward to seeing your entry for the competition in 2022." Chris Thorpe